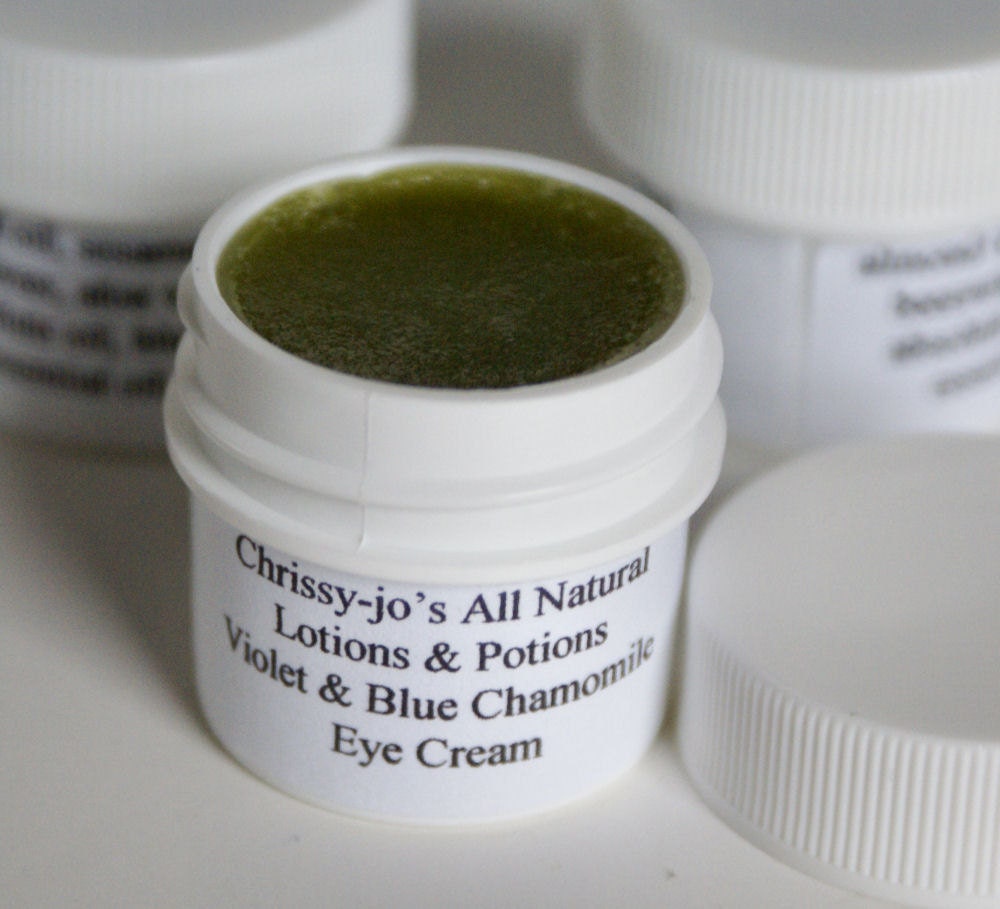 Here is one of my person favorites available in my shop. I started making it because I need some thing to help delicate skin around my eyes when I noticed fine line starting. I was having a hard time finding a affordable all natural eye cream that I was happy with. This cream work great has a wonderful scent from the blue chamomile and do not let the color deter you from trying this wonderful cream it glides on transparent and a small amount goes a long way! It is available in
1/4 oz containers
in my
Etsy shop
or 1/2 oz containers by special request.
This is a smooth balm like cream very soothing and works wonders on tired puffy eyes, helps reduce the appearance of wrinkles and to regenerate and brighten the delicate skin around your eyes.
Violet oil is antiseptic, astringent, anti-inflammatory, it is circulation boosting, soothing, light and refreshing. Used as a skin-soother and complexion brightener. It is also useful for thread veins, open pores, acne, blackheads, eczema, spots and rashes, skin irritation, skin inflammation, headaches, dizziness, emotional turmoil, it clears the head and improves concentration.
Blue chamomile has a high content of azulene, the active organic compound of chamomile, which bears a blue color. azulene has anti-inflammatory and skin healing properties.
Horsetail herb helps regeneration to strengthen skin tissue.
All the good for your skin ingredients in this eye cream are sweet almond oil, horsetail infused sesame oil, bee's wax, aloe vera oil, Violet absolute oil, blue chamomile essential oil and vitamin E.
FIND ME HERE
* While chamomile it is safe for most people, be careful if you have allergies to the plant, asthma or If you're pregnant.
Chrissy-jo's all Natural Lotions and Potions in part of Kindred Images and Creations.You will always receive a fresh batch of lotion or creams from my shop. Because of the natural and handmade nature of my products there can be mild differences in color and scent from batch to batch. All ingredients are listed.
* Note: These statements have not been evaluated by the FDA. They are for educational purposes only and are not intended to diagnose or treat any condition. Please consult your health care professional with any health-related concerns, and for diagnosis and treatment.